Make the most of your stay in Middletown!
Choose one of our curated experiences to add to your stay at our boutique hotel with adventures and excitement within just a few blocks or miles! Our guests have been impressed with all that Middletown has to offer and are already asking for more get-aways!
Call us at 513.567.1615 for more information and to book these packages today.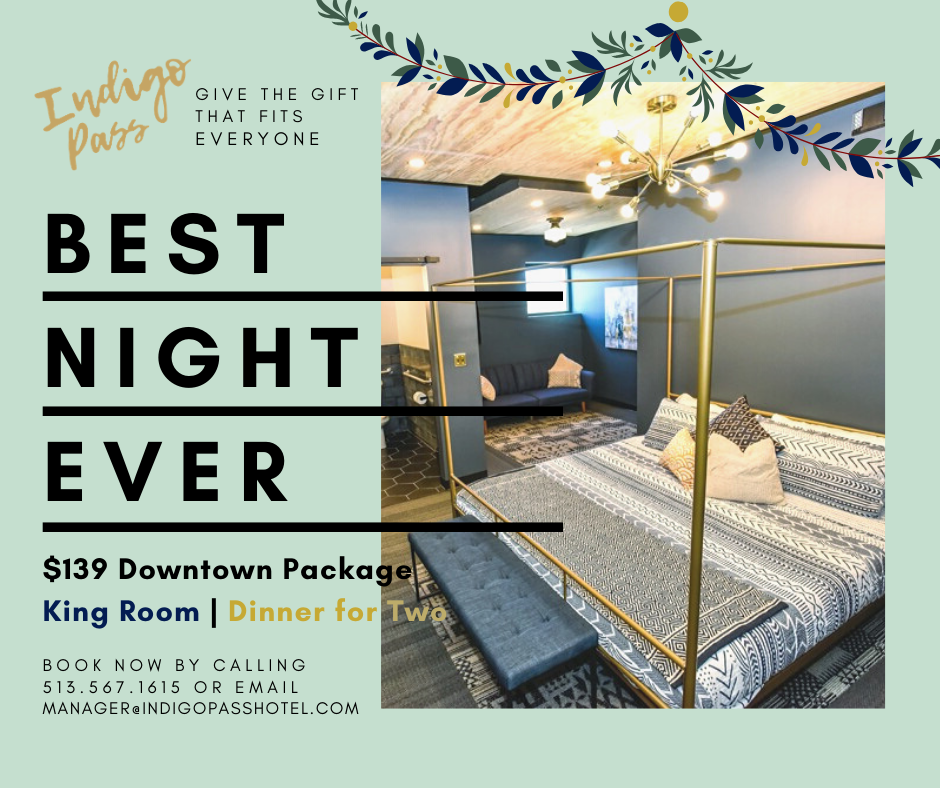 Gift Giving at its Best!
Make this year's Holiday a real celebration with the gift of a night in downtown Middletown,
Our Best Night Ever Package includes dinner for two at award-winning Gracie's restaurant and an overnight stay on one of our Deluxe King Rooms.
Guests can enjoy the ease and comfort of all downtown has to offer within the few blocks of Indigo Pass, from visiting the craft distillery The White Dog, to vintage shopping at The Gold Beret. Plan ahead to see a show at The Sorg Opera House, visit Grandpa Joe's Candy Store to relive your childhood, or shop and learn about glass making at Haute Fusion Glass Studio. Stroll the artists at the Pendleton Art Center or hit the river for walking, biking or kayaking the Great Miami!
There is much to do in downtown Middletown, your Best Night Ever Package puts you in the center of it all.
Call 513.567.1615 or email us to buy your Best Night Ever Package for the Perfect gift!
This two-day overnight tour is the perfect way to experience downtown Middletown! 
With so much to do downtown, this tour package packs in the activities and fun that our historic community has to offer. With this package, you will: 
Dine at award-winning restaurant Gracie's
Get a private tasting tour of White Dog Distillery
Take a glass class at Haute Fusion
Bike about town and down to the Great Miami River
Enjoy breakfast from Triple Moon and explore more!
Only $279 for Two!